Every trend and style that exists in the whole fashion industry is either inspired by western world culture or popularised by our very own celebrities of the cinema world. From the early 80s period to the millennials of this age, have always designed their dressing wardrobe according to their favourite divas or handsome machos from the movies. The idea of loving our ethnic wear and supporting most local artisans has also been a motivation by our stars. Sarees wore in many diverse and fantastic drape flairs which arose due to the tradition of each Indian state has been well modernised by many elite people. Though many of these sensations are been evolving constantly, some of the looks of these beautiful Bollywood style sarees can never be forgotten. 
There are numerous ravishing saree looks of every beautiful heroine that can be surely replicated. Do you wanna know how? Mirra Clothing has some similar Bollywood style sarees that resemble the same Bollywood kind. Enjoy watching these amazing looks and let us know which is your favourite of them.
Vidya Balan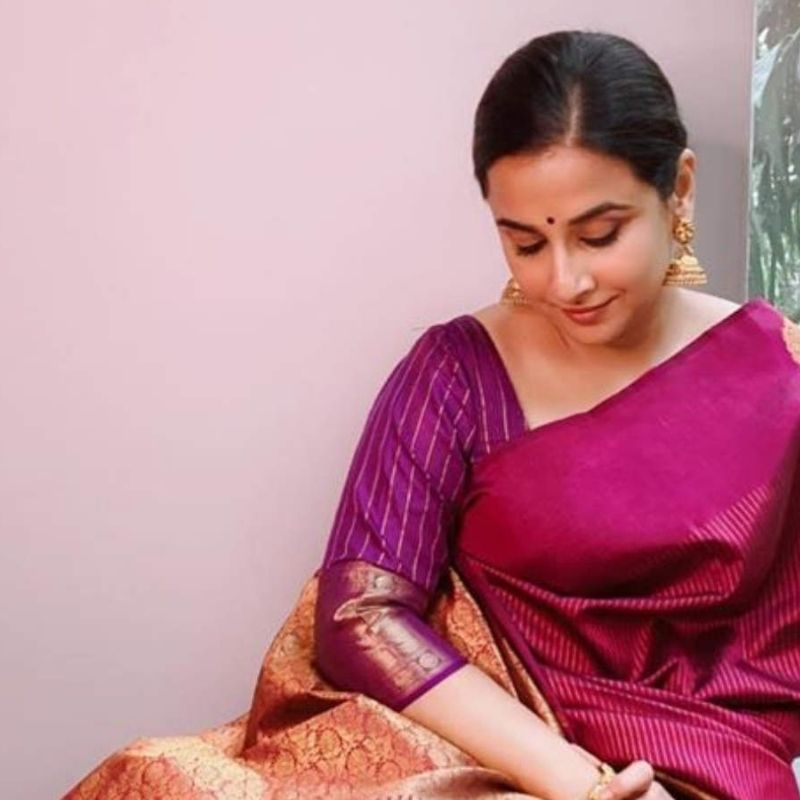 Vidya Balan who is well-known for her versatile roles in Bollywood and flawless acting skills on screen has always been an advocate of the best quality sarees. She has worn sarees ranging from the Kanjivaram to attractive floral organza sarees like these to many events like the Oscars and every award show too.
Though there has been a lot of criticism towards this sense of her traditional clothing, Vidya has never backed down. She has just levelled up from the hate and proved that what she wears is only her opinion, it does not have to be influenced by anyone.
If you also want to make a bold statement like Vidya Balan, then check out this Kanjivaram saree in a shade of pink/purple that will steal the spotlight!
Sai Pallavi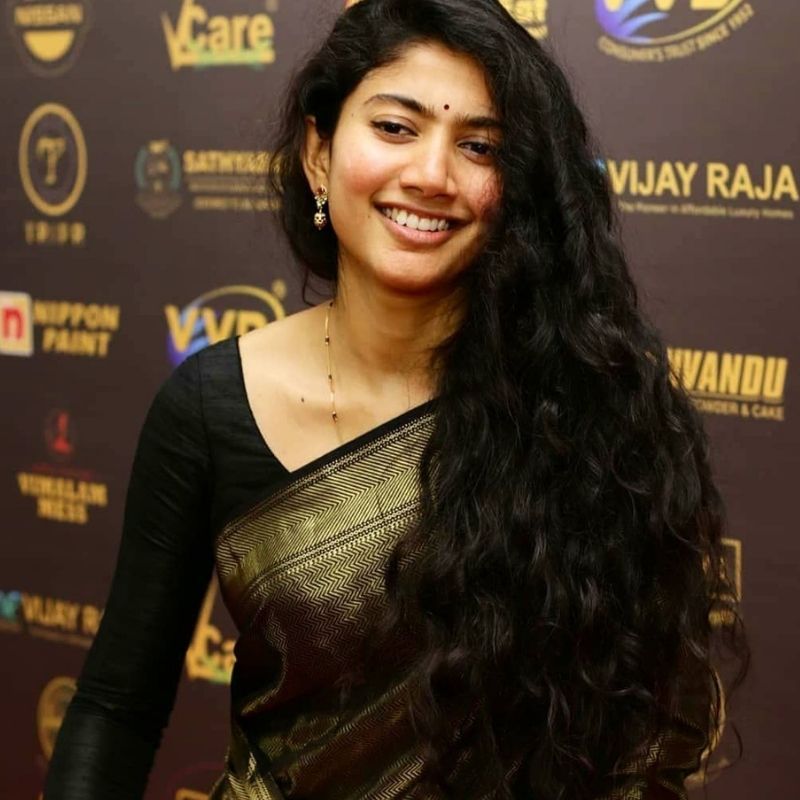 Sai Pallavi is the wonderful heroine from Mollywood who has our hearts racing from her swift dance moves to her impressive facial expressions. This black saree that she had donned for an awards show had become a huge sensation. The full-sleeved black coloured blouse perfectly complemented her golden shaded saree most fabulously.
Even though her accessories were to the minimal limit, Sai Pallavi's confidence in handling the saree and her smile was enough to be the most beautiful to everyone. Mirra Clothing has a parallel collection of sarees that effortlessly match the diva's stylish six drape clothing type. You too can go bold in black and drape that confidence with a Black Mangalgiri Silk Saree with Gold Zari Checks or a Black Banarasi Silk Saree.
Deepika Padukone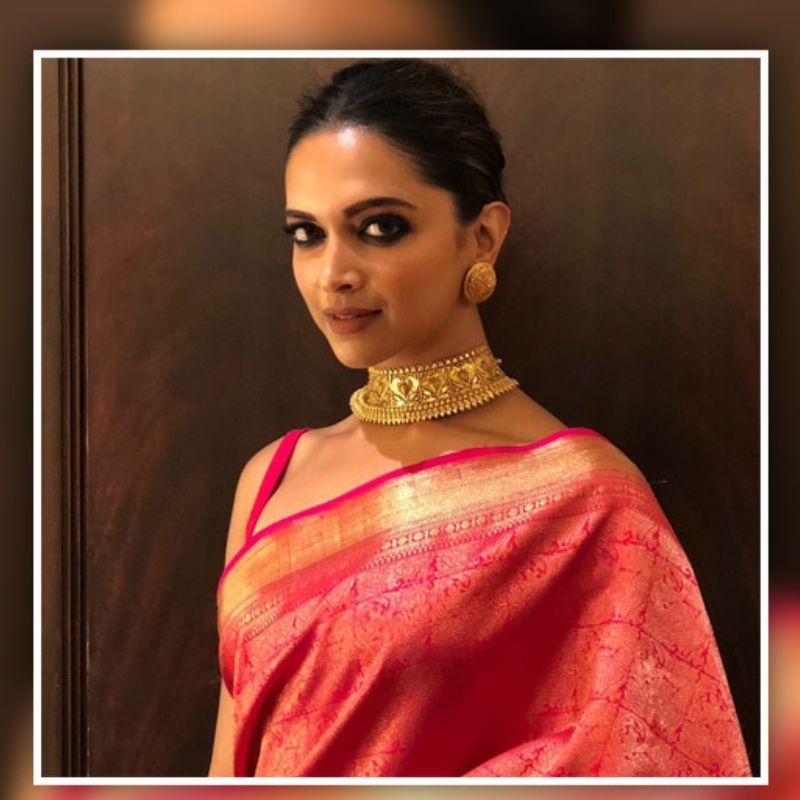 The queen of Kanjivaram sarees, Deepika has in most ways portrayed the role being the modern version of the yesteryear actress, Rekha. Deepika's love for grand sarees has proved otherwise. In the very important events, Deepika wears flawless sarees that beautifully showcases her roots and her love for culture.
Many sarees that are worn by the actress have been replicated in many ways, but we at Mirra Clothing have the best collection of South Indian sarees. They are very analogous to Deepika's saree wardrobe and have been the bestsellers on our website.
Be it Banarasi or Organza sarees, just like how versatile Deepika's dressing sense is, so are the stocks in Mirra Clothing. Embrace yourself with Pink Banarsi Silk Saree with Gold Zari Weaves just like Deepika and become the show-stealer of te evening!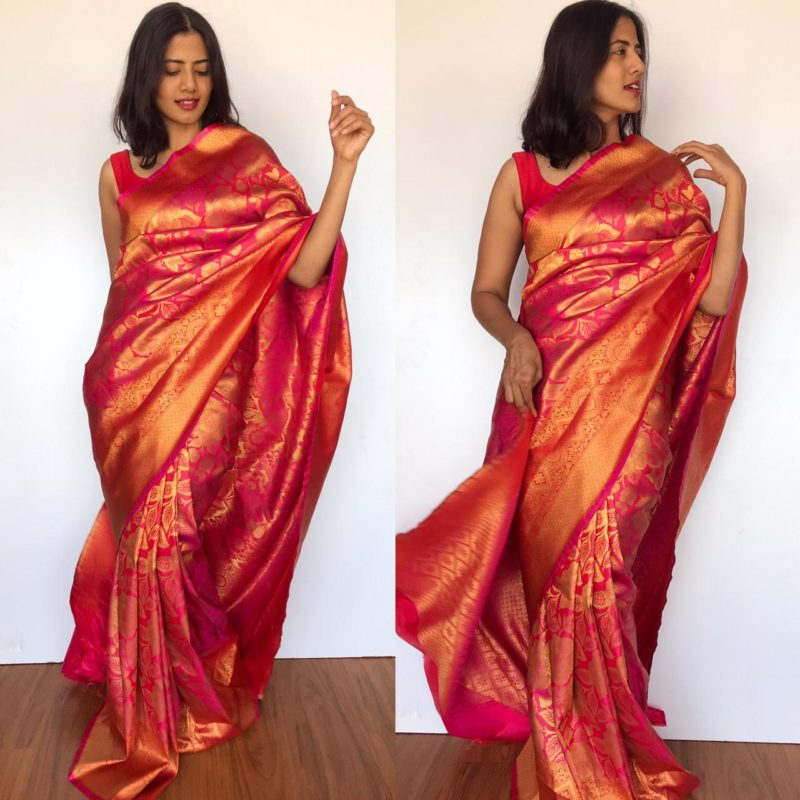 Madhuri Dixit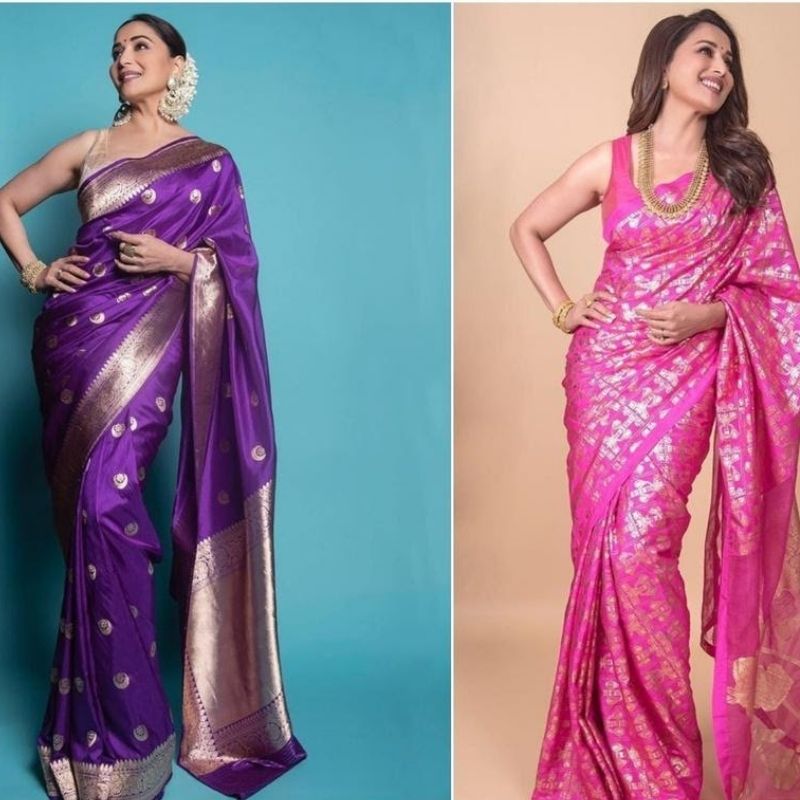 The evergreen actress who stays in shape by her killer dance moves or by her motivated exercise regimen, Madhuri has never failed to impress her followers with her unblemished beauty and looks. Madhuri Dixit is always been seen wearing many western clothes and traditional clothes for her is like her regular choice of attire.
These Banarasi silk sarees that are draped by the star makes her look no less than a queen. Both these sarees have distinct golden zari work and borders that make them more apt for a traditional look. The actress has always proved that when sarees are paired with the right accessories, you have got yourself a new vibrant look.
Give yourself the same glamorous look as Madhuri Dixit with an elegant Hot Pink Banarasi Silk Saree with Pan Patola Weaves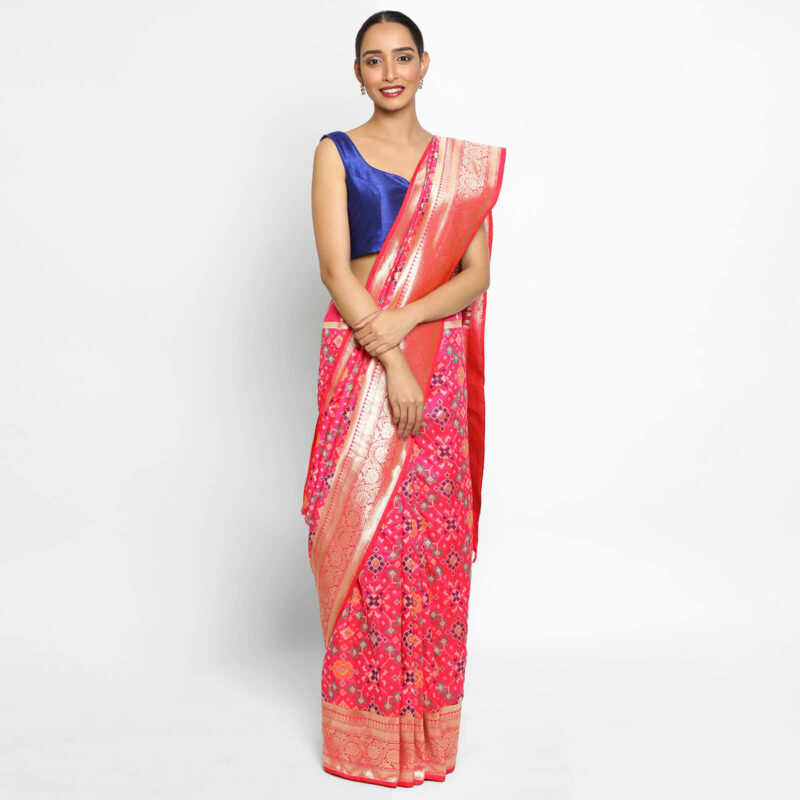 Anushka Sharma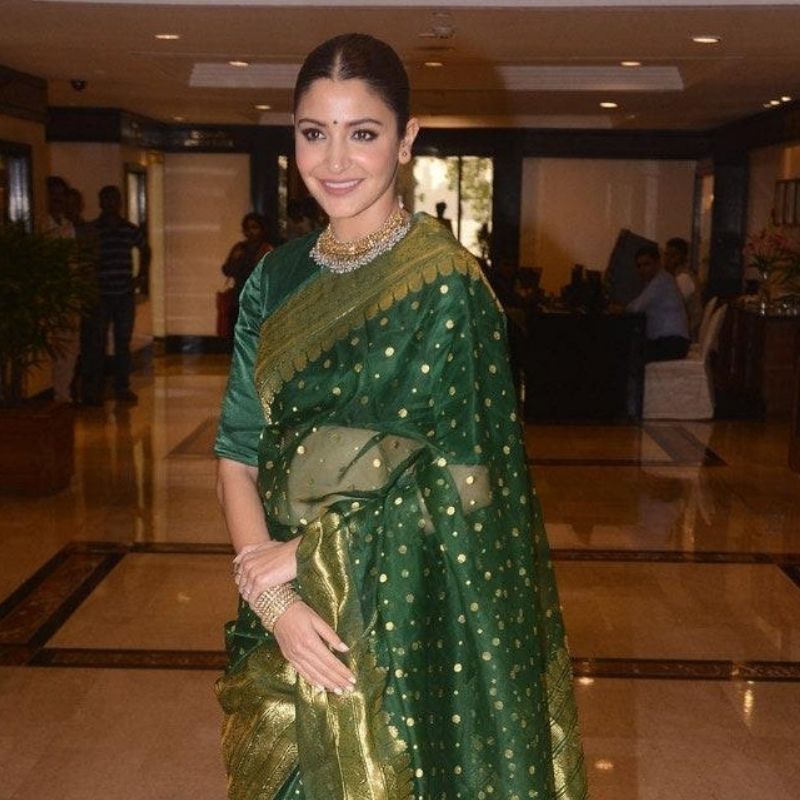 A commoner who won our hearts from her first film, Band Baaja Baarat this proud mother of one has always styled according to her mindset. Just like the unique pattern of her movies, her wardrobe of sarees is something that every girl dream of.
Well-known as a pure colour of tradition, the green coloured saree that's worn by the artist here is spectacular to just look at. They seem a little more transparent and a great choice for events that require a conventional dressing style. The minute golden polka like dots reminds us clearly of the twinkling stars.
Get grooving in style and look as dazzling as Anushka Sharma with our Bottle Green Chiffon Saree with Badla work. Its semi-transparent fabric and lightweight texture makes it easy to carry and flaunt in style.
Malavika Mohan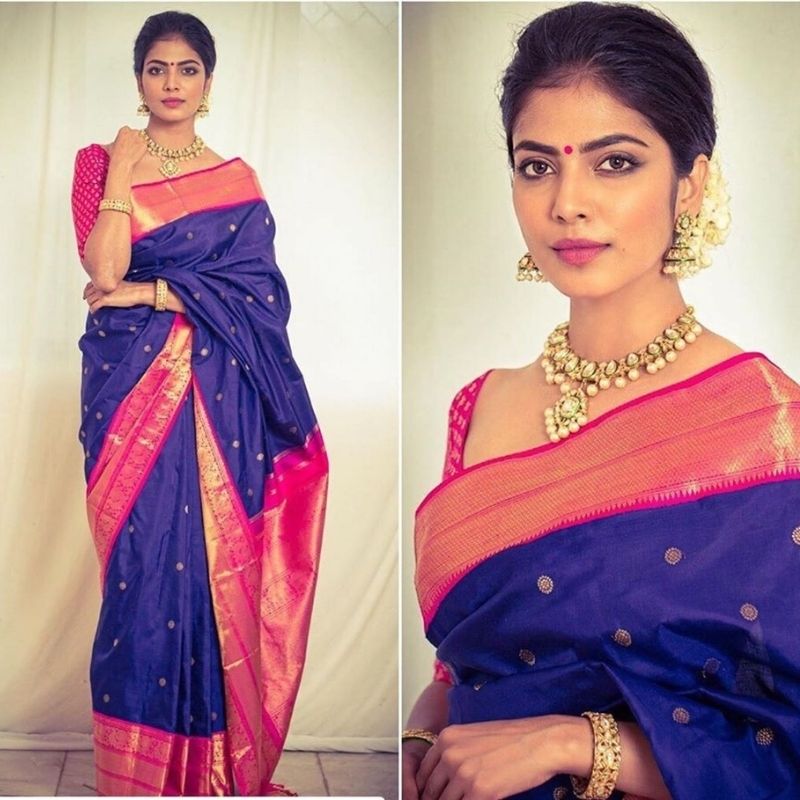 This newbie may be popular in the Hindi cinema industry but she is a South Indian by heart and soul. Her love and pride for Kanjeevaram sarees showcase who delicately she is fond of them. Though her draping method is a simple single drape most probably, the way she matches them with never seen before antique jewellery or subtle makeup tells so much about her simple yet humble personality.
This royal blue silk saree that is also available in Mirra Clothing can be a great choice for the newly-wed brides for any of their post-wedding functions.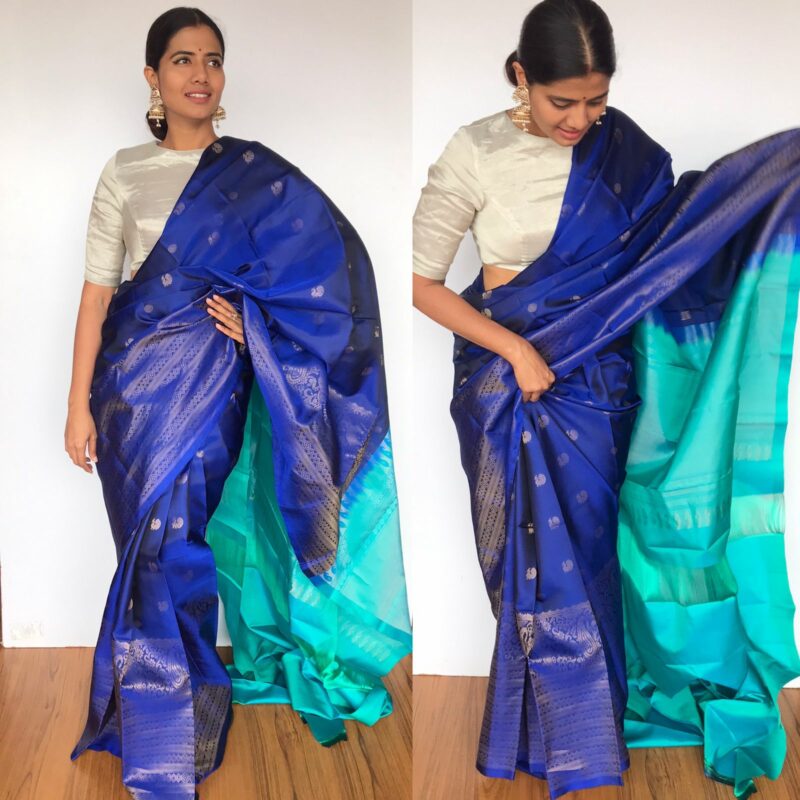 Kajol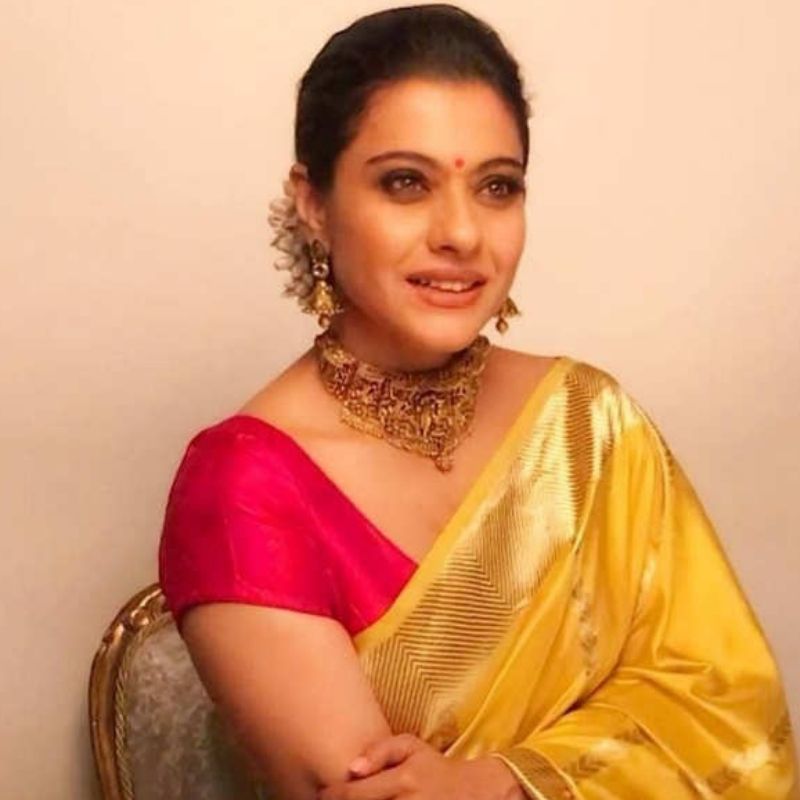 The versatile actress who has had a confident approach towards life and her career has been a wonderful human being and a woman too. Her selection of sarees, especially this bright yellow Banarasi saree is a fantastic choice.
The choice she has made to wear it with a black blouse embellished with golden patterns are a bonus to the cultural dressing. Mirra Clothing too manufactures authentic sarees that not just makes a woman look beautiful, but also show how proud and courageous she is by her own choices.
Look vibrant and adorable as Kajol as you drape our Yellow Banarasi Silk Saree with Paithani Weaves.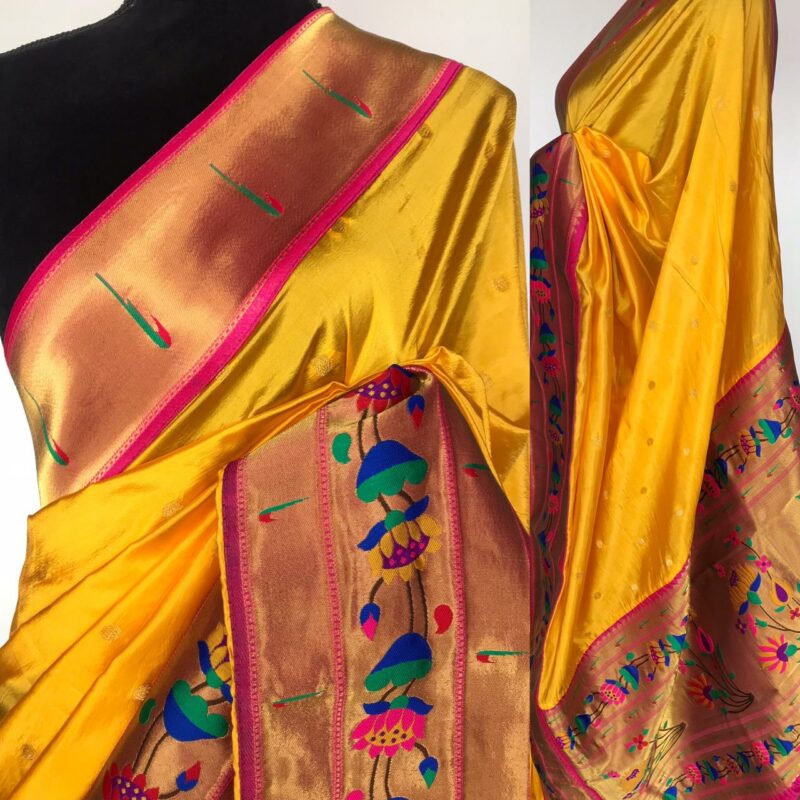 Taapsee Pannu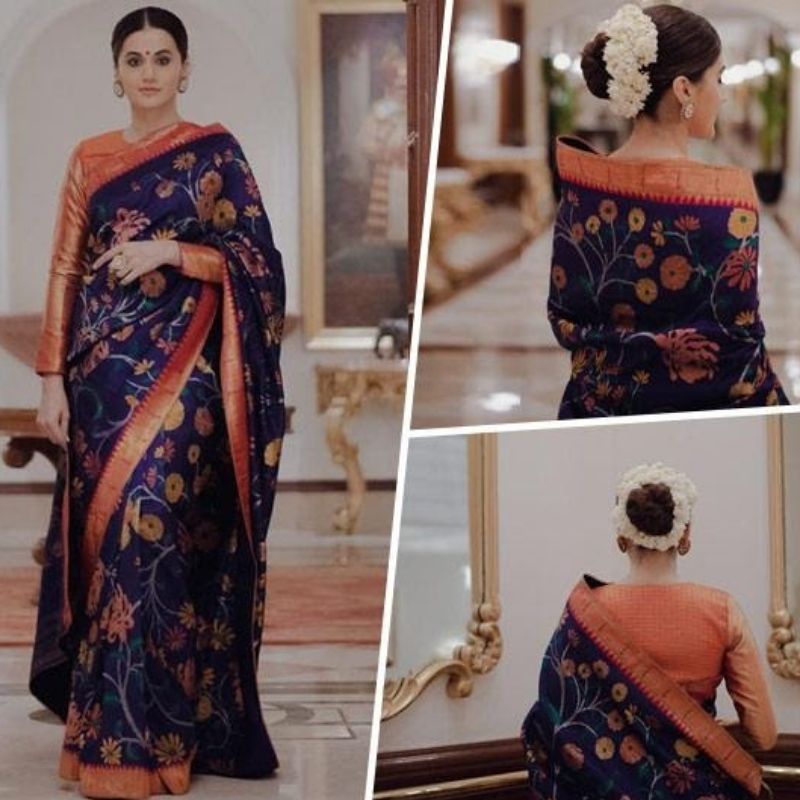 Another beautiful diva of Taapsee Pannu always has her audience and fans curious about her roles played and her dressing sense. This Delhi-born girl wore this royal looking Banarasi saree to one of her film promotions. It purely shows how much effort the artist has put in for such a divine overall look.
However, you can get the same divine look effortlessly with our Navyblue Saree with Floral Prints and look divine.
Conclusion
These are some of the wonderful saree elegances are can be easily seen and purchased on our website, Mirra Clothing. Many brand new Bollywood style sarees are coming up in our space. Do check them and let us know about your shopping experience in Mirra Clothing.